My recent infatuation with shawls has been inspired again. It's funny that I am working with weights that a year ago I wouldn't even consider. Granted I am using 3.75 or 4mm needles, so that does take the sting out of it.
This arrived in the mail today. I treated myself to some fingering weight yarn that I was raving about a few months ago.
HERE
6 skeins of Imagination Hand Painted called Wicked Witch. It's gorgeous and so incredibly soft I want more. It is so tempting to start a new project but mum and I are going to do this together
(Hey 'La' Do you want to get in one this with us?)
BUT I have to wait till she finishes the ones she has on the go. Not to forget, I still have to finish my Hallowe'en Mystery Shawl. I stalled out on it because adding all those bead is really annoying. It will be gorgeous once it is done I'm sure but until then...ugh. If I could only find a really really really fine crochet hook.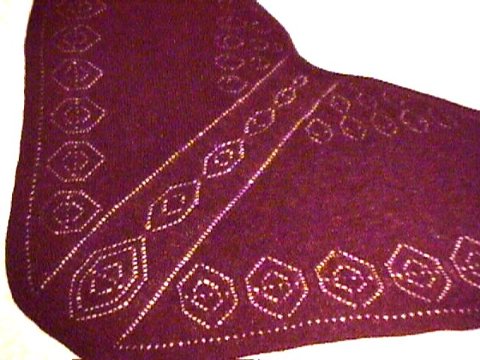 This is the pattern we are going to be doing. Anyone is welcome to KAL with us, jus say HI in the comments. You can get a copy of the pattern
HERE
. I'll post when we get started but it won't be till the new year I'm sure. This would make for a nice January project.
~Daughter #1